Written by Paul Kienzle, Latino ESL Director
For our Latino ESL class, it comes at the end of each trimester. Our grand finale to twelve weeks of learning concepts, verb tenses, and sequence phrases. Our celebration of a job well done, traditionally centered around special presentations, great food, and recognition of our students for their ESL achievement. It is a time when our students and volunteers come together, extending their friendship to one another in an informal and festive environment. This is what we call our Latino ESL end of the trimester party.
Last Thursday, we held our Latino ESL Spring end of trimester party! It was a wonderful time spent in the festively decorated Mission chapel (thanks to some of our ESL volunteers). Up to seventy people attended, a conglomeration of ESL students, their families, volunteers, and staff. Everyone brought tasty food or a dessert to share. At our end of trimester Spring party, the program was specifically geared toward highlighting student participation. One of the program highlights was seeing each of the five ESL levels give a short presentation of something they learned during the trimester. Level one presented the days of the week to the tune of the "Addams Family". Level two acted out a short Bible sequence of "David and Goliath", while Level three presented the Bible story of "Jesus feeding five thousand people", and Levels 4 and 5 told the Bible story of "The good Samaritan". It was a blast seeing both students and volunteers having a great time participating together, acting out or singing their lines! This music was an important component throughout our Spring Party program. Thanks to Gissell Vazquez, our Latino Discipleship and Music Coordinator at Mission Adelante, we were able to bless our students with a special photo presentation of shots taken during the past trimester put to music! In addition, Gissell teamed up with an ESL student, Nataly Pantoja to sing a beautiful worship song to end our evening! One of the culminating moments of the evening at our Spring party was recognizing each student and handing out their Certificates of Achievement. It was a special moment, watching each student make their way up to the front to receive their certificate and then having a line of volunteers waiting to give them a handshake or a hug. As Director of our Latino ESL program, it simply was a joyful and touching moment to watch.
Our end of trimester celebrations are important in many ways. We need to recognize our Latino ESL students and their achievements. Yet, it is also necessary to bring our students and volunteers together in an environment wholly different than that of a classroom, where lasting friendship is extended and where food and festive moments are mutually shared and ultimately remembered long after the celebration.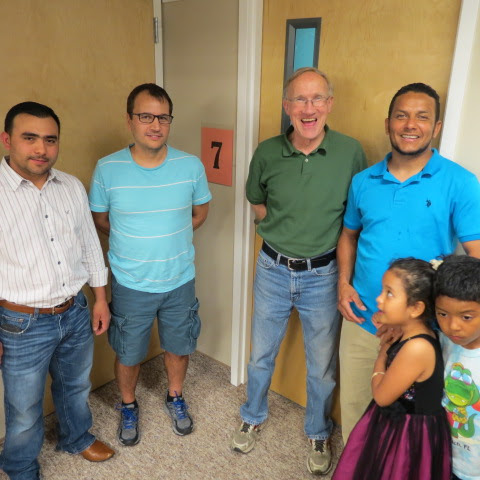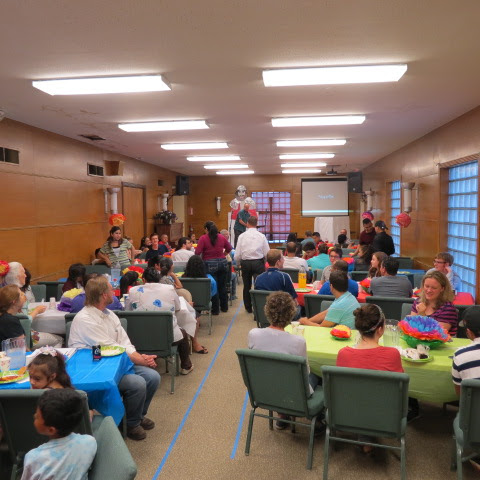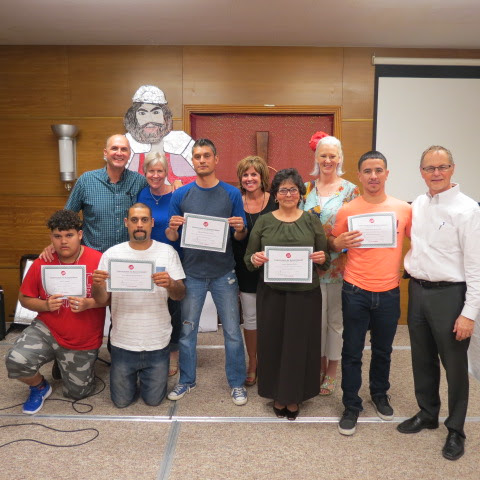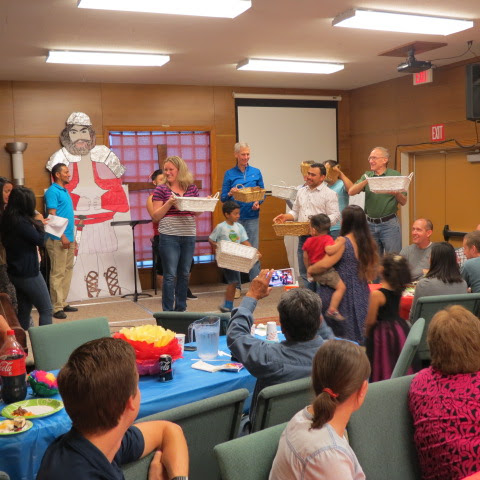 Current Needs:
Attention Coffee Lovers: If you love good coffee and helping immigrants and refugees, check out the fundraiser that Messenger Coffee is sponsoring for Mission Adelante. 100% of the profits go to support our immigrant and refugee programs at Mission Adelante. Visit http://messengercoffee.co/collections/mission-adelante-fundraiser, for more information and while you are at the website, order a bag or two of great coffee for a great cause.
Adelante Thrift is in need of donations: We are running low on clothing in all sizes and genders, linens, furniture, houseware items, and electronics. If you are having a garage sale or doing Spring cleaning, consider donating your gently used items to Adelante Thrift, located at 3720 State Ave. Kansas City, KS 66102. Donations are accepted Monday - Saturday 9:00 a.m. to 6:00 p.m.